Cleaning of DCBs / DCB substrates and hybrids
As a manufacturer and system supplier kolb provides for the cleaning of DCBs and Power Electronics the complete process from a single source: including machinery, accessories, cleaners and specially applied software controlled fully automated electronic processes.
Direct copper bonding (DCB) substrates are often used due to their good thermal conductivity in high-performance modules. They consist of a ceramic substrate board, usually alumina or aluminum nitride and usually applied with a copper foil on one or both sides in a high temperature oxidation process. Precisely because of the high power requirements (DCB substrates carry currents up to several thousand volts at temperatures up to 200° C), these components must be absolutely free of production residues for further working processes such as wire bonding, coating or varnishing.
Thorough removal of flux, rosin, resin, Cu oxide and soldering support substances are the main tasks in the cleaning of DCBs, hybrids, assemblies / assembled printed circuit boards, in order to be able to offer correspondingly process-safe assemblies for the above mentioned subsequent processes.
Suitable cleaning systems
---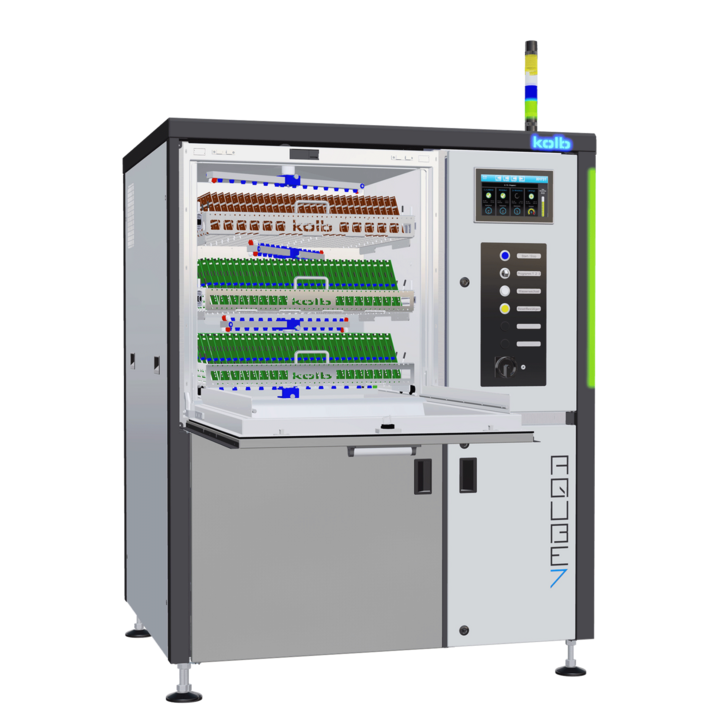 Capacity: up to 540 (8.6 m² / 92.5 ft²) eurocard in up to three variable drawer baskets
PolyPower
®
Technology (up to three times more pressure power and up to 30% less cycle time)
Horizontal up to sixfold spray rotors, VMH
®
TurboDigital evaporative drying
Process chamber dimensions: W 700 • D 720 • H 710 mm (W 27.55" • D 28.34" • H 27.95")
more about AQUBE® XH7
---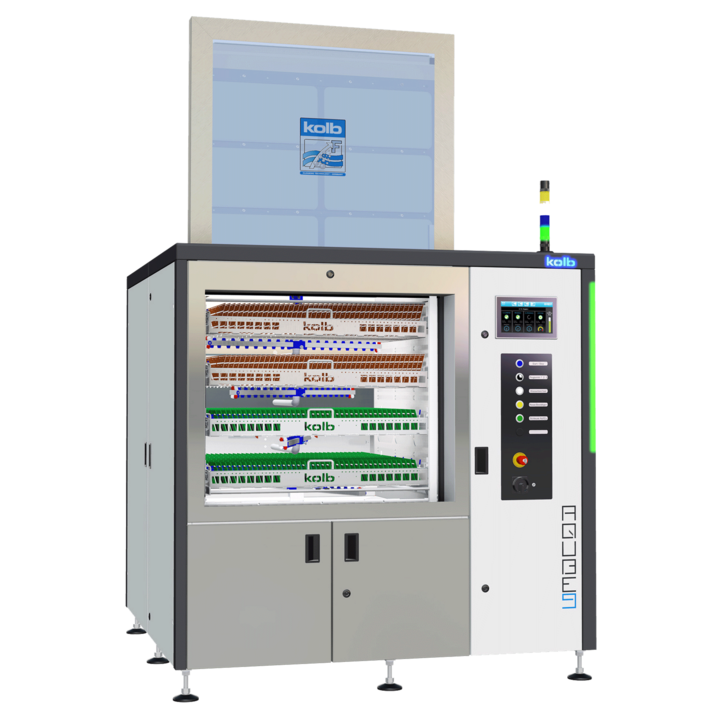 Capacity: up to 830 equals 19 m² (204.5 ft²) in up to four variable drawer baskets
Horizontal up to eightfold spray rotors, VMH
®
-TurboDigital evaporative drying
Process chamber dimensions: W 970 • D 955 • H 900 mm (W 38.18" • D 37.59" • H 35.43")
more about AQUBE® XH9