AQUBE® L series
For process safe fine cleaning of assembled PCBs and hybrids
The new kolb AQUBE® systems are next-generation cleaning systems - even more efficient, even more compact, easy to handle and maintain, pre-equipped for extended water management and ready for the smart factory (SF ready).
The systems of the kolb AQUBE® L series offer process safe fine cleaning for PCBs, SiPs, HDI boards, hybrids and misprints from contaminations such as fluxes, rosin, resin, copper, Cu oxide and aggressive solder-support substances. AQUBE® L systems clean up to 830 (19 m²) eurocards in four variable horizontal drawer baskets (relative cleaning time per board: approx. 6.5 seconds).
The two tank systems with three separate circuits and a fully automatic up to 4step process (1. Cleaning, 2. Rinsing (tap water), 3. DI-rinsing with continuous DI-water processing, 4. Drying) are extremely compact delivering best cost of ownership value.
---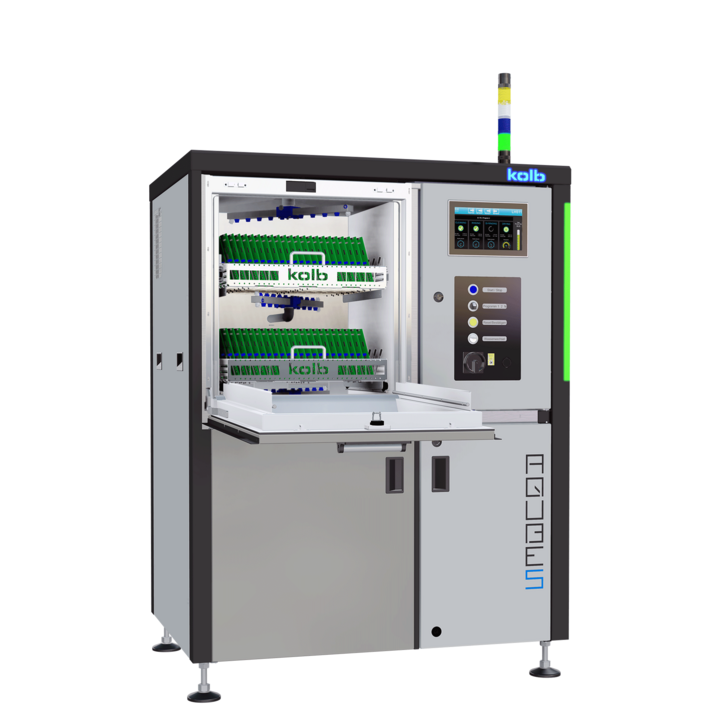 Capacity: up to 176 (2.8 m² / 30 ft²) eurocards in up to two variable drawer baskets
Horizontal up to fourfold spray rotors, VMH
®
-TurboDigital evaporative drying
PolyPower
®
Technology (up to three times more pressure power and up to 30% less cycle time)
Process chamber dimensions: W 540 • D 590 • H 570 mm (W 21.25" • D 23.22" • H 22.44")
more about AQUBE® LH5
---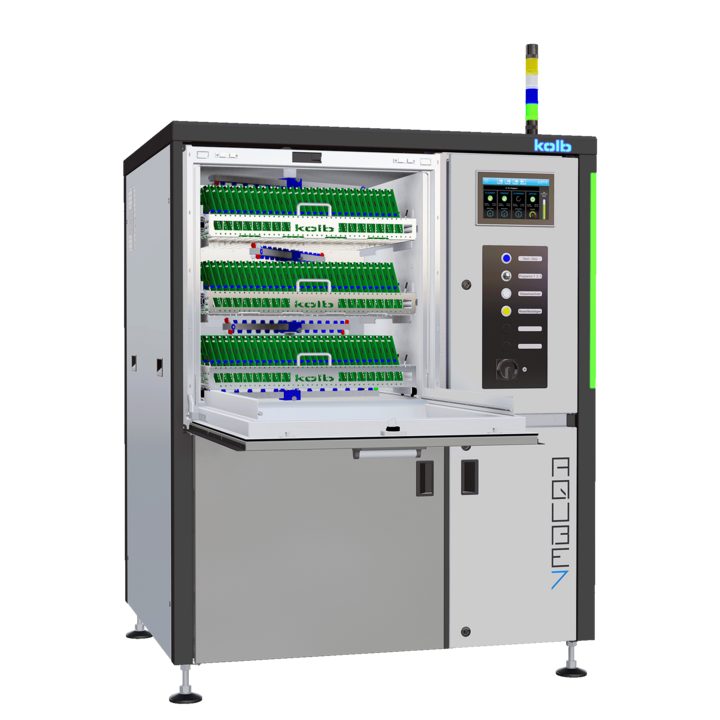 Capacity: up to 540 (8.6 m² / 92.5 ft²) eurocards in up to three variable drawer baskets
Horizontal up to sixfold spray rotors, VMH
®
-TurboDigital evaporative drying
PolyPower
®
Technology (up to three times more pressure power and up to 30% less cycle time)
Process chamber dimensions: W 700 • D 720 • H 710 mm (W 27.55" • D 28.34" • H 27.95")
more about AQUBE® LH7