AF series
Rugged state of the art systems for maintenance cleaning
To assure high quality of production equipment the kolb tools cleaning systems of the AF series operate with the as efficient as easy to handle air-in-immersion AirFlow® technology developed by kolb. This technology differs from common spray-in-immersion applications, as the goods to be cleaned here are actively submerged everywhere by the cleaning fluid swirled with compressed air. This guarantees a permanent all over active flushing without dead spots so that every contamination is fast and efficiently cleansed off.
From a smaller system for e.g. solder frames or condensate filters to a XXL bulk cleaner - the AF series offers a whole range of state of the art machines.
---
Fully automatic system with AirFlow
®
turbulence air-in-immersion technology
Cleans: Condensation traps, solder-frames, carriers and machine parts
Usable process chamber dimensions: W 810 • D 435 • H 520 mm
more about AF20
---
Cleaning in the entire chamber with AirFlow
®
air-in-immersion technology
Cleans: Condensation traps, solder-frames, carriers and machine parts
Usable process chamber dimensions: W 1.300 • D 450 • H 600 mm
more about AF30
---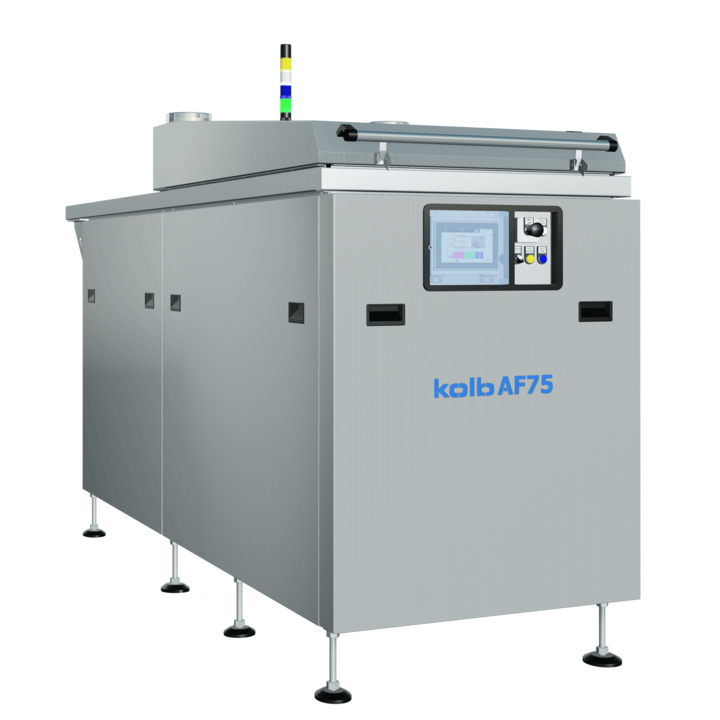 Large maintenance cleaning device with crane loading
Cleans: Condensation traps of virtually all manufacturers as well as carriers, solder frames and pallets
Usable process chamber dimensions: W 770 • D 1.280 • H 600 mm
more about AF75