The new kolb AQUBE® systems are next-generation cleaning systems - even more efficient, even more compact, easy to handle and maintain, pre-equipped for extended water management and cyber-physically ready for the smart factory (SF ready).
AQUBE® P series offers highly efficient single-chamber parts cleaning systems with Power Spray® spray-in-air and AirFlow® air-in-immersion technology for the thourough cleaning of bulk, turning and milling parts or larger / complex parts of fats, oils, waxes, chips, pastes or flux.
All systems are fully automated, e.g. equipped as standard with integrated ClosedLoop detergent and rinse-processing technology, automatic water change for the rinsing circuit, hot air drying, PLC controlled process and maintenance intervals as well as the event output and software control via touch screen.
The systems can be equipped with rotary units for up to six standard rotary baskets (W 185 ▪ D 340 ▪ H 190 mm), with up to four shelf baskets as well as with bulk drums (up total size Ø 630 ▪ W 650 mm).
AQUBE® P industrial parts cleaning systems provide low operating costs, high efficieny, quick and thorough cleaning of all common processing residues, tailored to the component material and geometry.
---
Capacity (usable size): Two rotary baskets (W 185 • D 340 • H 190 mm / W 7.28" • D 13.38" • H 7.48"), washing drum (Ø 300 • W 460 mm / Ø 11.81" • W 18.11" ) or up to three drawer baskets
Cleans / degreases / disinfects: Bulk, turning and milling parts, larger / complex, sensible parts from dust, fats, oils, waxes, chippings, pastes or flux residues
Process chamber dimensions: W 700 • D 720 • H 710 mm (W 27.55" • D 28.34" • H 27.95")
more about AQUBE® PH7
---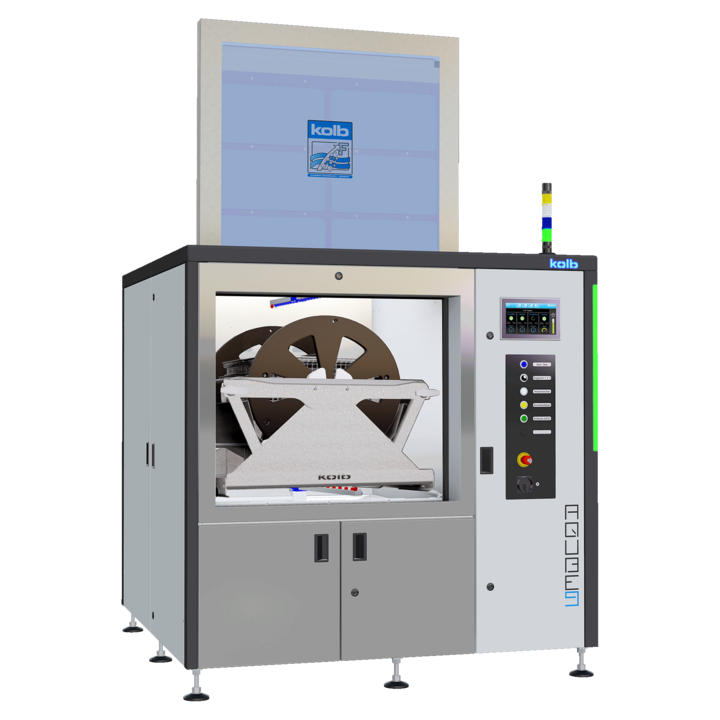 Capacity (usable size): Six rotary baskets (W 185 • D 340 • H 190 mm / W 7.28" • D 13.38" • H 7.48") , washing drum (Ø 630 • W 650 mm / Ø 24.8" • W 24.59") or up to four drawer baskets
Cleans / degreases: Bulk, turning and milling parts, larger / complex / sensible parts from dust, fats, oils, waxes, chippings, pastes or flux residues
Process chamber dimensions: W 970 • D 955 • H 900 mm (W 38.18" • D 37.59" • H 35.43")
more about AQUBE® PH9